2021 | The Year of Many Changes

2020 was a year of great turmoil for the world and it set the stage for many changes to be made in 2021. Here at KRP things were no different, with virtually no invoicing in April & May things got a little hairy but we were were lucky to have a fair amount of work to execute at the back end of 2020 which was good news for us, along with a rebounding service & repairs market.
In October 2020 we decided to take a leap of faith and hire some familiar faces to bolster our capabilities from estimating, sales, drafting and project management perspective, hoping that this would further increase client confidence in our business and service offering.
The leap paid off, we were able to secure multiple large projects from the likes of WBHO, Tiber and Concor. These projects, along with some others + a growing Service & Maintenance client base have set the stage for a record breaking financial year.
Work in Progress / Completed Projects
With extensive knowledge and experience in the supply and installation of Smoke Control Systems as well as the world leading Warema Automated Blind product. KRP have secured various different projects, some of these are:
144 Oxford - Warema Blinds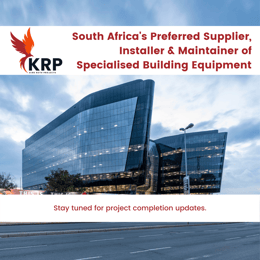 The KRP team is excited to confirm that we have started work on the 144 Oxford Road Office Towers, the new home of Anglo American.
Investec Sandton - Smoke Control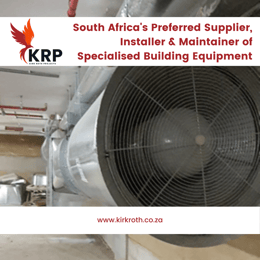 Tiber / ISF Joint Venture appointed us as their trusted partner to comply with the South African National Building Regulations SANS 10400 at the Investec Building in Sandton.
We installed induction cyclone fans and smoke extraction fans in the basement area, which formed part of the building upgrade.
Investec Sandton - Warema Blinds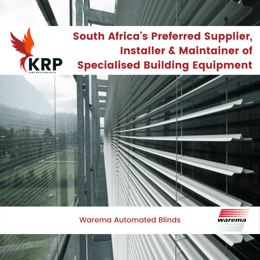 Kirk Roth Projects has been awarded the important job of installing the sun control system at the Investec Building in Sandton, built by the Tiber / ISF Joint Venture.
The works commenced in 2020, with completion of the Warema Sun Tracking Blind System scheduled for June 2021.
Internet of Things (IoT) & AssetPool
In 2019 KRP began with the implementation of AssetPool Smart Inspection software into the business, this allows for paperless live processing of inspections & Job cards. In March 2021 AssetPool has provided us with IOT connected smart devices. Please enquire about how we can assist you better manage your critical assets.
Warema Blinds
Another awesome partnership that was concluded in 2020 is with Warema GMBH. Warema offers automated sun-shading products which increase building efficacy by decreasing energy requirements in summer and reducing energy needs for artificial lighting. Kirk Roth is a proud partner of Warema, we not only install these products but we maintain and repair them as well.
All this and we are only half way through the year - in our next newsletter we will explain the strategy around KRP & KRS as well as share with you our latest news around completed projects and new projects.
Thank you to you all for your support and confidence in KRP to date. A special thank you to our staff, management and my partners Veren Bachoo and Chris Edwards for all the hard work to date. We have a great team and this is only the beginning.
Chat soon,
Michael